RAINEY-LANE SIRROCCO
KC Stud Book No. 3051AX
(1965 - Vol.XCII - Page 501)
Imported from America
in 195?
At the time, the tallest of the American imports,
standing over 24 inches.
Extract from Dog World Annual 1959, Page 50
"There has been considerable speculation on the cost of Sirrocco, but it is safe to say that he is the costliest import we have ever had in the breed and he is insured with Lloyd's for no less than £3,750"
Shown at Crufts 1959 (Not for Competition)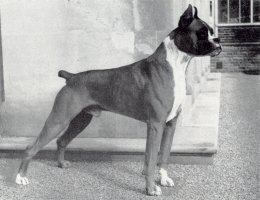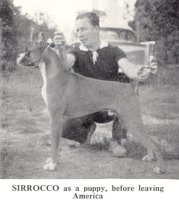 Born: 6 Sep 1956
Sex: Dog
Colour: Fawn, White Markings
Breeder: Mr G L Brocklehurst
Owners: Mr Martin Summers, SUMMERDALE Kennel
& Mrs Marian Fairbrother, GREMLIN Kennel
Sire: AM CH Dion of Rainey-Lane
Sire: AM CH Elixir of Rainey-Lane
Dam: Dazzler of Bocar
Dam: Lady Lita of Lennane
Sire: AM CH Elixir of Rainey-Lane
Dam: Baroness Helene von Hellman
Direct Progeny
CH Summerdale Shamus
CH Summerdale Snazzy
CH Summerdale Normlin Freelancer
CH Gremlin Normlin Legend
CH Summerdale Logic
CH Radden Pro Rata
CH Gremlin Normlin Notanda
Ch Summerdale Shatter
CH Summerdale Defender
CH Bamarhills Golden Quest
CH Ackendene Royal Fern
CH Summerdale Stormkist
CH Panfield Nassau Adonis
---
ROB ROY OF TOMIRA
Imported from America
in 195?
Shown at Crufts 1956 (Not for Competition)
The leading sire of 1959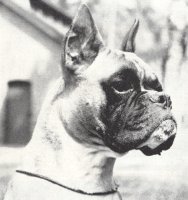 Born: 20 Mar 1954
Sex: Dog
Colour: Fawn, White Markings
Breeder: M Stoyle
Owner: Major D F Bostock, BURSTALL Kennel
Sire: AM CH Mazelaine's Keynote
Sire: INT CH Ursa Major of Sirrah Crest
Dam: AM CH Mazelaine's Hot Toddy
Dam: AM CH Mazelaine's Zenith
Sire: AM CH Mazelaine's Zazarac Brandy
Dam: Mazelaine's Young Widow Brown
Direct Progeny
CH Kelfry Merry Monarch
CH Burstall Little Caesar
CH Burstall Icecapade
CH Burstall Barnstormer
CH Burstall Highblo Valda

STAINBURNDORF FRÖHLICH VON DOM
Imported from Germany
Released from Quarantine - 1 Dec 1951
Arrived as a puppy which, from visual observance, looked more like a wolf than a Boxer, except for the shape of his skull. Fröhlich when he came, had a coat inches long and flowing, and it was not until he had been in quarantine for some time that he began to cast and reveal that wonderful coat, almost mahogany, beneath.
Mr Dawson would not allow Fröhlich von Dom to attend shows "not for competition", as he valued the dog too highly to risk touring the country.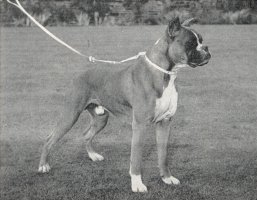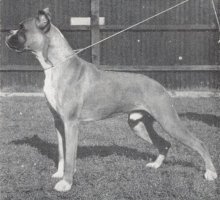 Born: ?
Sex: Dog
Colour: Red-Fawn, White Markings
Breeder: Frau Stockman, VON DOM Kennel
Owner: Mr Allon Dawson, STAINBURNDORF Kennel
Later exported to Mr H O'Brien, America
in 1955 for around $3,000.
(Mr Dawson felt Fröhlich was not fully appreciated in England)
Sire: CH Heiner von Zwergeck
Sire: Arno von Grafensprung
Dam: Klasse von der Boxerstadt
Dam: Goody Goody of Sirrah Crest
Sire: Vick Wick of Sirrah Crest
Dam: High Hat of Sirrah Crest
Direct Progeny
CH Stainburndorf Vanderlion
CH Stainburndorf Dandylion
---
STAINBURNDORF JAGUAR
KC Stud Book No. 812AD
(1947 - Vol.LXXIV - Page 463)
He was a big, heavily-built dog,
24 1/2 inches at the shoulder, 79 lbs in weight.
Big winner at the small shows held during the War.
He gained a dog CC in 1947
at the Silsden Agricultural Society Show under Mr T Corbett.
At this show Mr & Mrs Dyson were the first exhibitors
with Boxers to win both CCs at the same show.
Bitch CC won by Thornick Beta of Oidar.
1 CC - 2 RCCs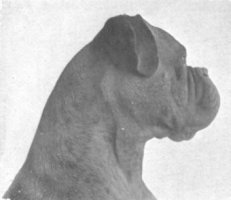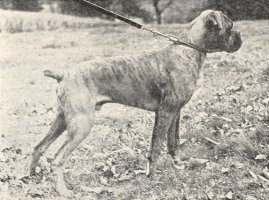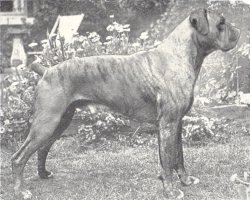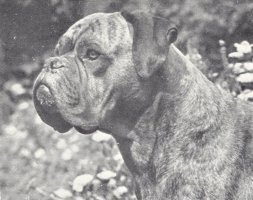 Born: 18 Apr 1942
Sex: Dog
Colour: Brindle
Breeder: Mrs J Stutchbury
Owner: Mr & Mrs Philip Dyson, OIDAR/KNOWLE CREST Kennel
(bought from Allon Dawson when he was 4 years old)
Sire: Stainburndorf Zulu
Sire: Zuntig von Dom
Dam: Bessi von Trauntal
Dam: Stainburndorf Hansa (NOT Hanson)
Sire: Rex von Durrenberg
Dam: Quitta von Biederstein
Direct Progeny
CH Asphodel of Knowle Crest

---
By that I mean, how for instance one source has a colour being red and another source has it being fawn! and this conflict is happening between so called 'Bibles' of the Breed.
If you use these pages to check pedigrees etc and you find a discrepancy in information, be aware I may not be the source of the discrepancy!