INFLUENTIAL SIRES
OF
BRITISH BOXER DOGS
Sires who have left their mark
on British Boxer Champions and the breed.
G H I J K L M
N O P Q R S
T U V W X Y Z
---
AM IMP WARDROBES JELHART'S MACK THE KNIFE
Imported from America
in 196?
Shown at Crufts 1963, 1964 & 1965 (Not for Competition)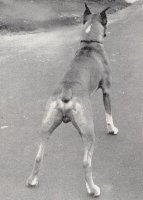 Born: 17 Jul 1960
Sex: Dog
Colour: ?, White Markings
Breeder: Mr & Mrs C H Hart
Owners: Mrs C Wilson Wiley, WARDROBES Kennel
Sire: AM CH Jered's Spellbinder
Sire: AM CH Elixir of Raineylane
Dam: Hot Copy of Gay Oaks
Dam: AM CH Delhart's Diamond Lil
Sire: AM CH Barrage of Quality Hill
Dam: Delhart's Candie Babe
Direct Progeny
CH Veljers Glowworm of Beaverslodge
CH Delapoer War Paint
CH Seefeld Musk Rose
CH Lindayne Mountain Mist

---
NOTE - What has become quickly apparent to me as I compile this list of Champions, is the amount of inaccuracies when you cross-reference different sources.
By that I mean, how for instance one source has a colour being red and another source has it being fawn! and this conflict is happening between so called 'Bibles' of the Breed.
If you use these pages to check pedigrees etc and you find a discrepancy in information, be aware I may not be the source of the discrepancy!
As an indicator to you of errors/conflicts I am aware of, the text concerned will be in bold and green.