Home
History
---
History
---
History
UK FOUNDATION BOXER DOGS
ZUNFTIG VON DOM
Picture taken whilst in quarantine in 1939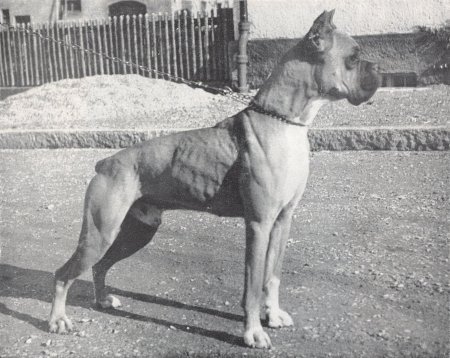 Born - 28 Nov 1936
Sex - Dog
Colour - Fawn
Breeder - Frau Friederun Stockman, Pleiskirchen, Nr Münich.
Imported - May 1939 - Mr Allon Dawson, Stainburndorf Kennels
Sent To - USA, due to WWII, to be sold for International Red Cross Fund.
Became an American Champion in 1941.
Sire - Lustig von Dom
Dam - Blanka von Fohlnhof (grand-daughter of Sigurd von Dom)
Zunftig only sired two litters in England, and one, from Mr Dawson's imported bitch "Bessi von Trauntal", contained a brindle dog, "Stainburndorf Zulu" who was never shown, but was to achieve his fame entirely through the stud book.

MORE PICTURES & INFORMATION
The following pictures and article are taken from
SUPPLEMENT TO "OUR DOGS", December 15, 1939, Page 23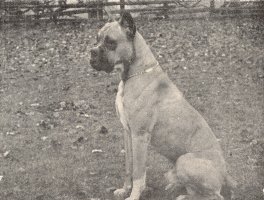 ZUNFTIG VOM DOM, which came out of quarantine only four months ago, is a son of Int. Ch. Lustig vom Dom and was, before his importation, considered to be one of the best young dogs in Germany. He is a fawn dog, standing 24 inches at the shoulder and weighing approximately 70 lbs., and the first impression that he gives one is that he combines strength with elegance in an unusual degree. This dog should do the breed untold good in this country.
The writer first saw Zunftig vom Dom at that historic ch. show at Harrogate on the very eve of the war, where he was exhibited not for competition, as he is, of course, a cropped dog. He had then only been out of quarantine for a very short time, but at first glance it was recognisable that here was a dog which could very easily beat anything there is in this country at present, and which could make the best of them travel all the way either on the Continent or in the United States. When handled he is every bit as good as he looks to the eye. A great Boxer this (and I do not use the word "great" lightly), combining substance with nobility and refinement whose head shows no deviations from the correct type, whether looked at in profile or examined in the frontal view. It is a thousand pities that it was at a time like this that this outstanding dog arrived in England, but Mr. Dawson will utilise his services despite the war to improve the quality of his stock.
R. H. Voss
---
The following three pictures and article is taken from
OUR DOGS Christmas 1948, Page 19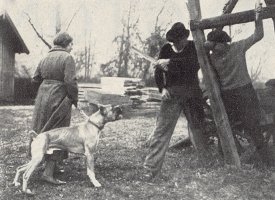 Mr. Allon Dawson is a ch. show judge of the breed and believes that a Boxer should reveal the definite characteristics desired in the breed. The Boxer should be fearless and a great protector. For that reason accompanying illustrations are to demonstrate how Ch. Zunftig v. Dom was trained to his part in his early German von Dom kennel. That spirit, that eagerness for defense, that alertness and sagacity, are badly needed in many of the British Boxers. Mr. Allon Dawson is planning to revive it. Stainburndorf therefore, means something outstanding.
Thos. Corbett
The following two pictures are taken from
The Dog World Annual 1951, Page 146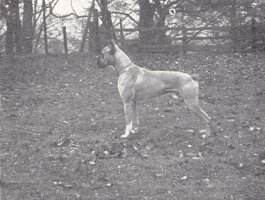 ---