BOXERS OF GERMANY 1930 - 1935
A booklet by Mr Allon Dawson, who founded the "Stainburndorf" Kennel of Boxers.
Yearbook format, with 24 pages including black and white photos of the great Boxer dogs of the past, with brief review of the history of British Boxer dogs. He had this booklet printed privately (date unknown).
Publisher - J. S. S., Bradford
---
This booklet was found at the Pax Boxers Web site of Audrey Schnell. Audrey has scanned and broken the booklet down into three Adobe Reader files (.pdf)
To be able to open a .pdf format file,
you must have Adobe Reader installed on your system.
Part 1 - Pages 1-8 (Download size 8.88MB).

Part 2 - Pages 9-16 (Download size 13.27MB).

Part 3 - Pages 17-24 (Download size 13.41MB).
Update - 16 Jan 07.
Since finding this booklet online at Pax Boxers, I have been fortunate enough to purchase an original 'Boxers of Germany 1930-1935' booklet, along with an original booklet the the 'Official Boxer Standard of The British Boxer Dog Club' as at 26th September 1938, with hand written notes made by Mr Allon Dawson.

---

Page 2 & 3 - Preface by Allon Dawson:
How the Boxer came to Britain
THE OBJECTS of publishing this booklet are to familiarise present day Boxer breeders with the outlook and characteristics of the Great Boxers of the past, and briefly to review the history of its inception to Britain.
The first two Boxers were imported into Britain by Dr. McMaster of Ballymena, Ulster, in 1919. They were good specimens, but unfortunately, failed to produce any offspring.
In 1934, Mrs Sprigg imported Gretel v.d. Boxerstadt, a beautiful bitch, in whelp to Hansl v. Biederstein. From this litter came the first British bred champion Boxer - Horsa of Leith Hill, owned by Mrs. Caro, the President of the British Boxer Club.
At about the same time others became interested in the breed. Here, I would point out that although I am writing this preface, I do no desire anyone to gain the impression that the publication is in anyway a personal advertising medium. Far from it. There are others in Britain entitled to well found praise for their early efforts. Although I confess I did not know a great deal about Boxers, I purchased from Mrs. Sprigg, in 1935, a Boxer bitch named Sally. She became a most devoted pal but not quite the type I judged the best Boxers to be. I therefore decided to import a few. As a result came Rex v.d. Durrenberg, Bessi v. Trauntal, Hella v.d. Eibe, Klasse v.d. Humboldtshöhe, and by a considerable stroke of fortune, Burga v. Twiel, in whelp to the famous Lustig v. Dom.
A year later, Mrs Siggers, who is so well known amongst Boxer breeders, imported Anita v. Konradshöhe. This bitch, mated to Mr. Rankine's Arras v. Neidsheim, produced an important litter of puppies which included the well known Cuckmere Krin.
Another very important importation was Mrs. Alsa Rhodes' Gunda v. Hoheneuffen, in whelp to Agel v. Ben Satan. Gunda, in my opinion was one of the best bitches ever imported. It was unfortunate, therefore, that Mrs. Rhodes possessed no accommodation to breed another litter. Mr. Bader also imported Tell v.d. Magdelenquelle, sire of Sigurd of Luckings owned by Mr. Betteridge, who was one of the founders of the British Boxer Club.
In 1939 came Flori and Zunftig v. Dom. Then came the war and virtual cessation of importations for some years.
Post war days quickly revealed a desire for importations from the continent, and cropped and uncropped specimens have been transferred to the kennels of Mrs. Dunkels and Mrs. Gambles of the Breakstone prefix, Mr. George Jakeman of Birmingham, Miss Jean Grant, Capt. Hill, Mrs. Harrild, Mr. Leslie E. Booth, of Carlshead Manor, etc.
Many of these dogs have been used at stud. From this, naturally, have risen varied types of Boxers, and it is appropriate, then, to know that there is only one standard in Germany for the Boxer, and that is to be found in Frau and Philip Stockman's "Der Deutsche Boxer". This standard was adopted in England by the Northern Boxer Club and the Midland Boxer Club. The British Boxer Club's standard varies in slight detail
One point in the German original standard is worthy of repetition here in view of the photographs which follow, as a guide to all. The original standard clearly states that the "muzzle of the Boxer should be about 1 to 2 of the skull". The American standard gives no direction to that character with the result that muzzles in some of the American bred Boxers are far too long, thus not possessing the correct lip formation, and lack in tilt of the muzzle tip. A long muzzle, indeed, usually foretells a poor stop. From these points it is clear that the standard is of imperative importance. The standard first. Judges do not make the standard. It is their duty to judge according to the standard.
As a matter of interest I actually prepared a booklet with illustrations and standard for the British Boxer Club in 1945, but it was objected to by the committee sitting at the time. The reason for the objection was stated to be that the booklet contained photographs. In my view, photographs of the pillars of the past are of incalculable value to us all. I thank my lucky stars, therefore, that I have been able to obtain "Boxerblatter" and so reproduce the gallery of photographs which follows. From these everyone can see what was, and what is, the correct type of Boxer at which to aim.
It is my most sincere wish that the breed shall make headway in Britain and that all breeders shall work in close, friendly, and harmonious support to produce what I believe is the most fascinating and interesting of all breeds.

Page 4 - Ch Lustig v. Dom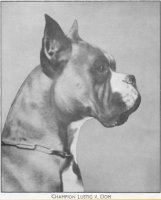 Page 5 - Fachinger v. Neu-drosedow


Page 6(b) - Was Ist Da Druben Los?

Page 6(c) - Harras v. Menchendahl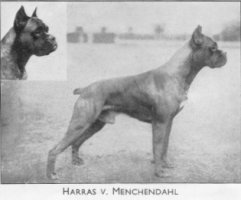 Page 6(d)- Sieger Lustig v. Dom

Page 1 - 6
Page 7 - 8
Page 9 - 10
Page 11 - 12
Page 13 - 14
Page 15 - 17
Page 18 - 20
Page 21 - 24
---