BRITISH BOXER DOG CHAMPIONS
1952
CH Klesby Sparklet - 43
CH Panfield Awldogg Attar - 44
CH Panfield Party Piece of Greentubs - 45
CH Geronimo Carissima - 46
CH Burstall King - 47
---
CH Klesby Sparklet
Champion 43
4 CC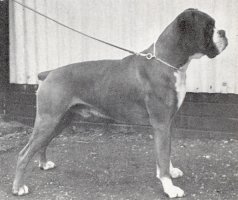 Born: 24 Apr 1950
Sex: Dog
Colour: Fawn, White Markings
Sire: GER Imp CH Holger von Germania
Dam: Skolar of Klesby
Breeder: Mrs A G Hucklesby
Owner: Mrs A G Hucklesby & Mrs F M Price – Then, Miss Niccol of New Zealand
Date of Attaining Title: 1 Mar 1952

CH Panfield Awldogg Attar
Champion 44
3 CC - 2 RCC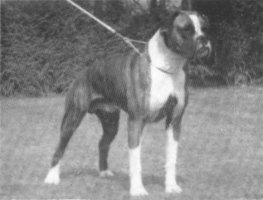 Born: 5 Nov 1950
Sex: Dog
Colour: Brindle, White Markings
Sire: CH Panfield Ringleader
Dam: Awldogg Zena
Breeder: Mr & Mrs J W Lissenden
Owner: Mrs E Somerfield – Then, Mr & Mrs Bull
Date of Attaining Title: 24 May 1952

CH Panfield Party Piece of Greentubs
Champion 45
6 CC - 1 RCC
Dam of 3 Champions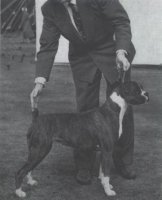 Born: 26 Dec 1950
Sex: Bitch
Colour: Brindle, White Markings
Sire: CH Panfield Ringleader
Dam: Lisa of Greentubs
Breeder: Mr W R Cooke
Owner: Mrs E Somerfield
Date of Attaining Title: 24 May 1952

CH Geronimo Carissima
Champion 46
17 CC - 5 RCC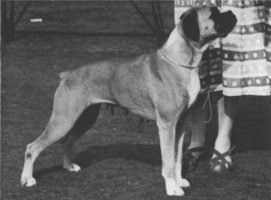 Born: 28 May 1951
Sex: Bitch
Colour: Fawn, White Markings
Sire: AM Imp AM CH Awldogg Southdown's Rector
Dam: Geronimo Chloe
Breeder: Miss M Greene & Mr D Hatherly
Owner: Miss M Greene & Mr D Hatherly
Date of Attaining Title: 12 Jun 1952

CH Burstall King
Champion 47
3 CC - 1 RCC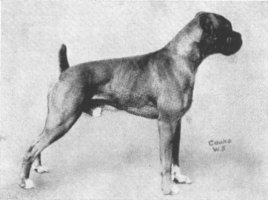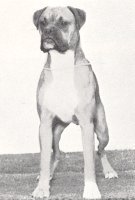 Born: 11 Sep 1950
Sex: Dog
Colour: Fawn, White Markings
Sire: GER Imp Axel von Bad Oeyn
Dam: Burstall Duskie (YES)
Breeder: Major D F Bostock
Owner: Major D F Bostock
Date of Attaining Title: 10 Sep 1952

---
---
NOTE - What has become quickly apparent to me as I compile this list of Champions, is the amount of inaccuracies when you cross-reference different sources.
If you use these pages to check pedigrees etc and you find a discrepancy in information, be aware I may not be the source of the discrepancy!
As an indicator to you of errors/conflicts I am aware of, the text concerned will be in bold and green.

If you:
Discover any errors.
Can update the information displayed (such as total of CC and RCC).
Have a picture of your Champion you wish to be added to the Year above.
Then please email me -