THE MUNSTER CIRCUIT

The Munster Circuit consists of a series of FOUR All Breed Championship Shows, held every year in August, run under Irish Kennel Club rules.
These are held every second day with a day's break between each show.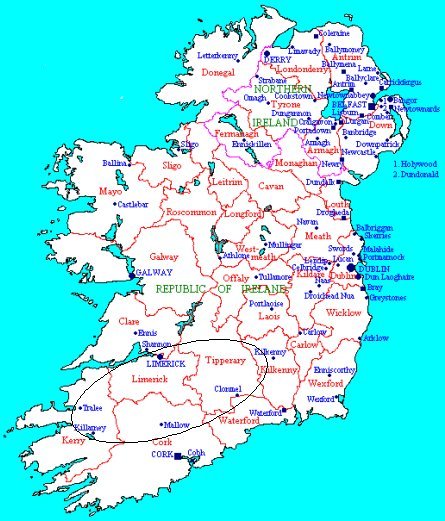 Munster is the most southern of Irelands provinces, consisting of Counties:

Clare
Cork
Kerry
Limerick
Tipperary
Waterford
---
SHOWS
The Shows run in the following order:

---
CLONMEL
Sun 17 Aug 08
To be held in the grounds of a school.
Clonmel & District Canine Club
Mrs Margaret O'Gorman
"Inis Ealga"
Monksgrange
Clonmel
Co. Tipperary
052 - 38311
Alt: 052- 21411
Map of Clonmel
Clonmel - County Tipperary

KILLARNEY
Tue 19 Aug 08
To be held in a showground, near the town centre.
Killarney & District Canine Club
Mrs P Lawlor
" Rolwal"
170 Ballyspillane
Killarney
Co. Kerry
064 - 33739
Map of Killarney
Killarney Tourism Guide

LIMERICK
Thu 21 Aug 08
To be held in the grounds of Woodlands House Hotel
Limerick & District Canine Club
Show Sec - Mrs Pia Dempsey
'Tubberburr'
4 Ballycannon Heights
Meelick
Co. Clare
061- 271292 after 8.00 p.m.
E-mail -

TRALEE
Sat 23 Aug 08
To be held at Tralee Rugby Club
Tralee & District Canine Club
Mrs Maudie Burke
Sandwood Kennels
Killarney Road
Castleisland
Co. Kerry
066 - 7141423
Map of Tralee
Welcome to Tralee
Tralee Tourist Guide

GREEN STAR SYSTEM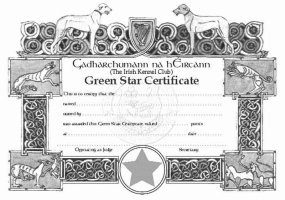 ikc.ie/index.php?option=com_content&task=blogcategory&id=45&Itemid=62

BOXER DOG ORGANISATIONS OF IRELAND
Boxer Society of Ireland
Mr Michael Durcan
Barnwellstown
Lobinstown
Navan
Co Meath.
Tel. - 00 353 46 9053973 (Outside R.O.I.)
046 9053973(Inside R.O.I.)
Munster Boxer Club
Mrs Patricia Kehoe (KEOPAS Affix)
Killabeg
Ferns
Enniscorthy
Co. Wexford.
Tel. - 00 353 54 33950 (Outside R.O.I.)
054 33950 (Inside R.O.I.)
Irish Boxer Obedience Club
Mrs E Drennan
27 Watergate
Tallaght
Dublin 24.
Tel. - 00 353 1 4524896(Outside R.O.I.)
01 4524896 (Inside R.O.I.)

DOG WEBSITES OF IRELAND
IRISH KENNEL CLUB



ww.ikc.ie
IRISH DOGS


www.irishdogs.ie
SHOW DOGS IRELAND



www.showdogsireland.com